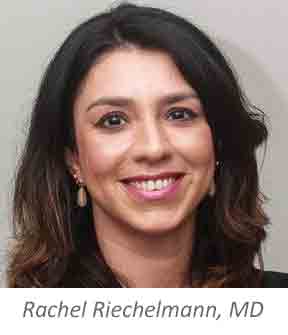 "My name is Rachel Riechelmann, I am a medical oncologist who works in Sao Paulo, Brazil.
I first joined MASCC in 2005, when I was an oncology resident at the University of Sao Paulo. Once I started receiving the Supportive Care in Cancer (SCC) journal, the articles of it enticed my interest to the field of supportive care in cancer. However, at that time all I could do was study the subject.
After my residency, through an American Society of Clinical Oncology (ASCO) educational grant, I happened to meet with Dr Ian Tannock, who invited me for a two-year clinical research fellowship at the Princess Margaret Hospital, University of Toronto, Toronto, Canada. I seized up the opportunity and my research focus was on palliative care and outcomes research. I worked at palliative care clinics, under the supervision of Dr Camilla Zimmermann, and developed a few supportive care projects, including a drug trial for cancer cachexia, which was sponsored by the National cancer Institute of Canada.
I have presented studies at MASCC 2006 and 2007 and also won a Young Investigator Award in 2007 with a project about the risk of drug interactions at the end of life.
My experience in palliative cancer care led me to return to Brazil with strong will to develop and conduct research in this area. Nowadays I supervise a team of 20 medical student from the Faculty of Medicine ABC, Great Sao Paulo Area, who are interested in pursuing medical oncology. We have projects on end-of-life care, supportive care and cancer survivorship. Some of projects might be collaborative with studies conducted by MASCC Study Groups.
During all this time I benefited from free MASCC membership (total of 3 years). My free membership allowed me to keep myself updated on scientific information, meetings and to stimulate even more my passion for supportive care in cancer.
Now I have a good job at a pharmaceutical company and have become a full MASCC member. I strongly recommend people with interest in supportive care to become MASCC members. And I do hope that they benefit from it as much as I have."
- Rachel Riechelmann, MD, Sao Paulo, Brazil