Neurological Complications Study Group Profile
2019    Chair Maryam B. Lustberg, MD, MPH, is a Medical Oncologist and tenured Associate Professor in the College of Medicine at The Ohio State University and a member of the Cancer Control Program at The Ohio State University's James Comprehensive Cancer Center (OSUCCC). She has specialized in breast cancer and works as a medical oncologist at the Stefanie Spielman Comprehensive Breast Center. She is the Director of Breast Cancer Survivorship and the Medical Director of Cancer Supportive Care Services at OSUCCC and physician champion for the Adolescent and Young Adult Program. She has led numerous clinical trials, including research on the early detection of heart damage in patients treated with chemotherapy. She was recently awarded an R01 from the National Cancer Institute on focused on targeted therapies for the prevention of chemotherapy-induced neuropathy. Maryam has authored or co-authored of numerous research papers on such topics as physicians' perspectives on survivorship care for older breast cancer survivors, prevention of chemotherapy-induced peripheral neuropathy, and early detection of chemotherapy induced cardiotoxicity in breast cancer survivors. She is a member of the American Society of Clinical Oncology (ASCO) Neuropathy Task Force and the ASCO Survivorship Education Track, and member of Alliance and Southwest Oncology Group Cooperative Group Networks in the USA. In addition to the Neurological Complications Study Group, Maryam is a member of MASCC Study Groups on Nutrition and Cachexia and Survivorship.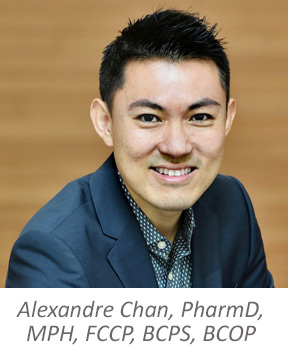 Vice-Chair Alexandre Chan, PharmD, MPH, FCCP, BCPS, BCOP, is Clinical Deputy Head and a tenured Associate Professor at Department of Pharmacy, Faculty of Science, National University of Singapore (NUS) and Duke-NUS Medical School, Singapore. He is also a Specialist Pharmacist at National Cancer Centre Singapore, and he serves as the Program Director for the national PGY-2 Hematology/Oncology residency program in Singapore. Alex has also published over 170 full-length, peer-re¬viewed manuscripts in a wide array of cancer supportive care and survivorship topics, such as cancer-related fatigue, chemotherapy-associated cognitive impairment, chemotherapy-induced peripheral neuropathy, myselosuppression and chemotherapy-induced nausea and vomiting. Alex is a Fellow of American College of Clinical Pharmacy (ACCP), currently President-Elect of the International Society of Oncology Pharmacy Practitioners (ISOPP), and Associate Editor of the Journal of Oncology Pharmacy Practice. He was awarded MASCC's Steven M. Grunberg Memorial Award in 2015, and he currently serves on MASCC's Board of Directors. In addition to the Neurological Complications Study Group, Alex is a member of MASCC Study Groups on Fatigue and Neutropenia, Infection, and Myelosuppression.
Study Group History and Rationale
Since the birth of oncology as a distinct medical discipline, oncologists have considered myelosuppression and its attendant problems to be the dose-limiting and most important toxicities of radiation and chemotherapy. Within the last decade, however, the availability of colony-stimulating factors, and dramatic improvements in transfusion medicine, antibiotic therapy, and supportive care have made the bone marrow more robust. Today, a strong case can be made that the nervous system has replaced the bone marrow as the most important dose-limiting end organ for cancer therapy. Similarly, for the growing number of cancer survivors, the nervous system rather than the hematopoietic system more frequently affects the quality of survival and the economic productivity of survivors. At the same time, longer survival, more effective systemic therapies, and the relative inaccessibility of the nervous system to these therapies has resulted in a steady increase in the frequency of direct nervous system involvement by non-nervous system cancer.
All components of the central and peripheral nervous system are susceptible to injury by cancer therapy. Among the most prominent targets are the brain (resulting in cognitive impairment, neuroendocrine dysfunction, depression, anxiety, and social disintegration) and the peripheral nerves (resulting in neuropathy). The brain, spinal epidural space, and leptomeninges are all common nervous system targets for metastatic spread of tumor and subsequent neurologic compromise.
Purpose and Objectives
MASCC's Neurological Complications Study Group (SG) was formed to raise awareness among healthcare providers, patients, and advocacy groups about the frequency, importance, and complexity of neurological complications secondary to radiation and chemotherapy. These problems are important to all patients with cancer. Hence a multidisciplinary approach is essential in addressing the Study Group's primary objectives:
To develop reliable assessment tools;
To assess internationally potential variation in the significance of neurological complications;
To survey members' opinions and needs regarding neurological complications;
To develop international multidisciplinary collaborations on emerging modalities in neurological complications;
To contribute program content to MASCC meetings and practical resources to the MASCC website.
Annual Meeting Workshops
Cancer-Related Cognitive Impairment — At the 2016 MASCC/ISOO Annual Meeting in Adelaide Australia, the Study Group offered the first pre-conference workshop to focus on neurocognition among cancer patients and survivors. Participants learned about the etiology and clinical presentation of cancer-related cognitive impairments, as well as the assessment and management of such problems. Other topics of discussion included biomarkers, genetics, considerations for elderly patients, cultural concerns, and special populations.
Technological Advances and Emerging Strategies for Treatment-Related Symptoms during Cancer Survivorship — At the 2019 MASCC/ISOO Annual Meeting in San Francisco, Alex Chan led a workshop on technological advances bearing on the management of treatment-related symptoms among cancer survivors that included a focus on neurological complications. Plans are underway to produce a white paper on the use of technology in survivorship care delivery and symptom management.
Study Group Awards
At the 2019 MASCC/ISOO Annual Meeting, the Study Group presented two Outstanding Abstract Awards.
Alex Molassiotis, RN, PhD (Hong Kong) — A Randomized Assessor-Blinded Wait-List Controlled Trial to Assess the Effectiveness and Cost-Effectiveness of Acupuncture in the Management of Chemotherapy-Induced Peripheral Neuropathy.1
The aim of the study was to test the effectiveness of an 8-week course of acupuncture in the management of chemotherapy-induced peripheral neuropathy in cancer patients who were receiving or had received neurotoxic chemotherapy. In this randomized assessor-blinded trial, one group (n=44) received acupuncture twice weekly for 8 weeks, while the other (n=43) was a wait-list control group receiving only standard care. Significant changes at 8 weeks were detected in reported pain, clinical neurological assessment, quality of life domains, and symptom distress. Improvements in pain interference, neurotoxicity-related symptoms, and functional aspects of quality of life were sustained at the 14-week assessment, as were physical and functional well-being at the 20-week assessment. in the economic evaluation there was little difference between the two groups. This study supports the use of acupuncture as an effective intervention for treating chemotherapy-induced peripheral neuropathy and improving quality of life experience with neurotoxicity-related symptoms with longer-term effects evident. However, in this study, acupuncture proved no more cost-effective than standard care.


Yi Long Toh, BSc Pharm (Hons) (Singapore) — Pre-Chemotherapy Plasma Dehydroepiandrosterone Levels and Its Sulfated Form-DHEA(S) as a Predictor for Cancer-Related Cognitive Impairment in Breast Cancer Patients Receiving Chemotherapy.2
Dehydroepiandrosterone and its sulfated form, jointly referred to as DHEA(S), are neurosteroids known to regulate brain development and function. It was hypothesized that higher prechemotherapy plasma DHEA(S) levels might protect breast cancer patients from the onset of cancer-related cognitive impairment (CRCI). The study was thus undertaken to evaluate the association between prechemotherapy plasma DHEA(S) levels and CRCI in breast cancer patients receiving chemotherapy. In this prospective cohort study involving 81 patients, self-perceived and objective cognitive function of patients were assessed before, during, and after chemotherapy. Plasma samples were assayed with ultra-high-performance liquid chromatography-tandem mass spectrometry for quantitative determination of DHEA(S) levels. Multivariable logistic regression was used to evaluate the association between pre-chemotherapy plasma DHEA(S) levels and CRCI, incorporating clinically important factors. The results indicated an association between DHEAS levels and impairment in self-perceived cognitive domains of verbal fluency and mental acuity. However, DHEA was not associated with any cognitive sub-domains. The findings suggest that patients with higher prechemotherapy DHEAS levels have a lower risk of developing self-perceived cognitive impairment in verbal fluency and mental acuity. Future studies are required to validate these findings in independent cohorts and should evaluate the effectiveness of pre-emptive intervention with DHEAS supplementation.
Current and Planned Research Projects
The Neurological Complications Study Group (SG) has recently completed a project in chemotherapy-induced peripheral neuropathy (CIPN) and is currently working on another project in the area of cancer-related cognitive impairment (CRCI).
In the CIPN project, 23 SG members, led by Maryam Lustberg and Alex Chan, collaborated on a paper that provides an overview of the known biological (molecular and genomic) predictors of CIPN and discusses ways to facilitate progress in this field. This paper has been accepted for publication by Supportive Care in Cancer. A second paper, a review of the clinical management of CRCI, involves 20 SG members, led by Samantha Mayo and Katherine Peters.
Future work will include small research working groups on financial toxicity of neurological complications, special issues faced by young and older cancer survivors, integrative medicine approaches, and emerging technologies for neurological symptom management.
Recent Research and Publications
Recent research by Study Group members includes numerous studies exploring the risk factors, incidence, assessment, and disease burden of cognitive and peripheral neuropathy, as well as their prevention and treatments. Many studies explore the symptom burden and quality of life of cancer patients and survivors who have been treated with neurotoxic chemotherapies. A recent review of novel pharmaceutical therapies in chemotherapy-induced therapies was recently published by Maryam Lustberg in Clinical Cancer Research. 3
A list of Recent Member Publications is available on the Study Group's web page.
Get Involved!
If you are interested in getting involved with the work of this Study Group, contact the Study Group Leaders, who are happy to accept new members and invite them to engage in ongoing or new projects.
_____________________________________
1A. Molasiotis, E. Cheng. The Hong Kong Polytechnic University, School of Nursing, Hong Kong, Hong Kong S.A.R.
2Y.L. Toh1, J. Shariq Mujtaba1, S. Bansal1, A.H.L. Yeo1, M. Shwe1,2, A.J. Lau1, A. Chan.1,2
1National University of Singapore, Pharmacy, Singapore
2National Cancer Centre, Pharmacy, Singapore
3S. Hu, K.M. Huang, E.J. Adams, C.L. Loprinzi, M.B. Lustberg. Recent Developments of Novel Pharmacologic Therapeutics for Prevention of Chemotherapy-Induced Peripheral Neuropathy. Clin Cancer Res. 2019 May 23 (Epub ahead of print]
Share this post: