MASCC Has a Strong Presence at ESMO 2019
2019    The 2019 European Society of Medical Oncology (ESMO) Congress in Barcelona (Sept. 27 to Oct. 1) featured a Supportive and Palliative Care Track chaired by Florian Scotté, MD, PhD, and included on its Committee MASCC members Matti S. Aapro, MD, Paolo Bossi, MD, Jørn Herrstedt, MD, Karin Jordan, MD, Vincent Launay-Vacher, MD, and Carla Ida Ripamonti, MD. There were also two joint sessions that included MASCC, one with ESMO and the other with the European Oncology Nursing Society (EONS).
ESMO-MASCC Collaborative Session: Management of Cancer- and Anticancer Therapy-Induced Side Effects
Chairs: Karin Jordan, MD (Germany) and Rajesh V. Lalla, DDS, PhD (US)
Robert E. Coleman, MD (UK): Bone Health in Cancer Patients: Improving Survival
Karin Jordan, MD (Germany): Prevention and Treatment of Cancer and Cancer-Treatment-Related Nausea and Vomiting
Matti S. Aapro, MD (Switzerland): Prevention of Febrile Neutropenia: Updated Guidelines
Stéphane Champiat, MD, PhD (France): Safe Usage of Immunotherapy
Rajesh V. Lalla, DDS, PhD (US): Conclusions and Perspectives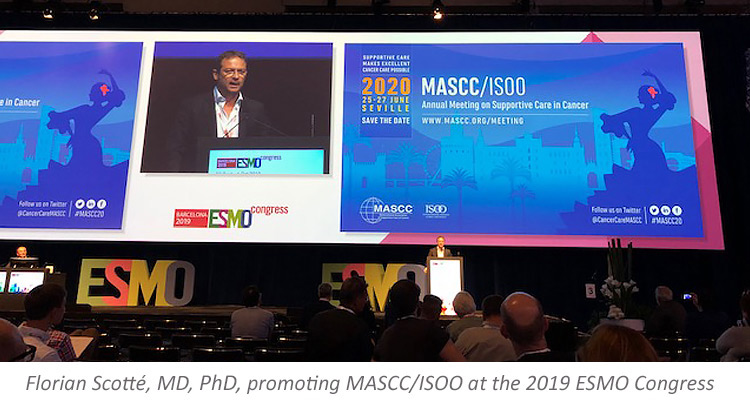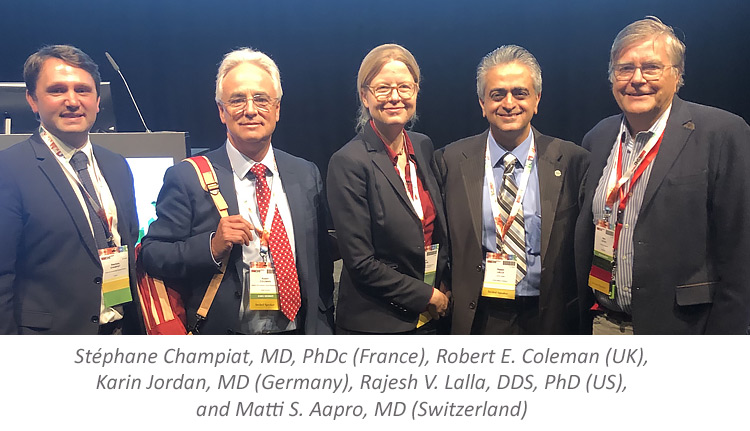 EONS-MASCC Collaborative Session: Cancer Survivor vs Survivorship: Clash of Cultures or Words?
Chair: Harald Titzer, MSc (Austria)
Julia Ruíz Pato, RN, MSc (Spain): Long-Term Follow-Up
Raymond Chan, PhD, MAppSc, BNurs, RN, MCNSA (Australia): Integrated Survivorship Care Models: Please Make It Work!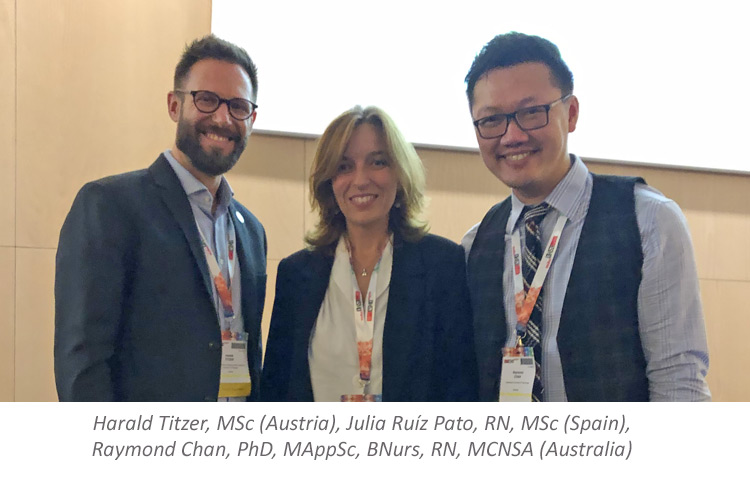 MASCC also had a booth in the Exhibition Hall at the ESMO Congress, which was staffed by MASCC Executive Director Melissa Chin, HBSc, MBA, CHE. In addition to those listed above, other MASCC members in attendance at the conference included Fausto Roila, MD, Maryam Lustberg, MD, MPH, Declan Walsh, MD, and many more.
Share this post: