Best of MASCC Singapore: November 30, 2019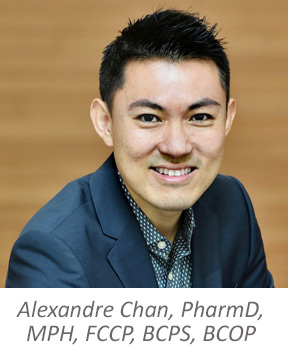 2019    The National Cancer Centre Singapore (NCCS) will host the inaugural Best of MASCC Singapore meeting on November 30, 2019, with the theme of "Supporting Cancer Patients and Survivors." MASCC Board member Alex Chan, PharmD, MPH, FCCP, BCPS, BCOP, played a key role in organizing this event. The goal of the meeting is to increase awareness of supportive and survivorship care and to advance supportive care practices in Singapore. There is no fee to register.
Best of MASCC Meetings are endorsed by the Multinational Association of Supportive Care in Cancer and intended to disseminate the most recent advances and updates in cancer supportive care to local and regional healthcare professionals. Topics at the Singapore meeting will include survivorship in the community, symptom management and rehabilitation among cancer survivors, and current research in these areas. Raymond Chan, PhD, MAppSc, BNurs, RN, MCNSA, Chair of MASCC's Survivorship Study Group,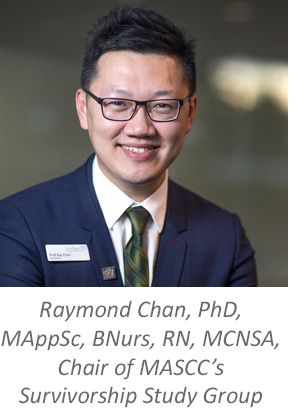 will deliver the keynote address on "Survivorship Issues across the Age Continuum." Dr. Chan is Chair of Cancer Nursing, Queensland University of Technology and Princess Alexandra Hospital.
Other speakers include Alexandre Chan, PharmD, MPH, FCCP, BCPS, BCOP, Irene Teo, PhD, Noreen Chan, MD, Terina Tan, Medical Social Worker, Grace Yang, MBBCh, MPH, Mothi Babu Ramalingam, MBBS, Tan Quan Ming, BSc, BMed, and Wong Chinn Jung, MBBS, MRCP. William Hwang, MBBS, MMed, MRCP, Medical Director of the National Cancer Centre Singapore, will deliver the Welcome Message and Guest of Honor Amy Khor, PhD, Senior Minister of State in the Ministry of Health, will also speak.
For more information and registration, see Best of MASCC Singapore.
Share this post: