MASCC's Newest Affiliate: Japanese Association of Supportive Care in Cancer (JASCC)
2019    In November 2019, the Japanese Association of Supportive Care in Cancer (JASCC) became MASCC's newest affiliate. This affiliation allows for joint membership in both organizations with all membership benefits. MASCC's affiliate program was designed to strengthen relationships with national associations of supportive care in cancer around the world. Partnering with other organizations helps to promote supportive care at the local level with special attention to each nation's particular needs and resources, as well as economic and cultural issues. The aim is to create a global network of supportive care organizations that allows for international collaboration, as well as enhancing the experiences of cancer patients worldwide.
JASCC is a multidisciplinary organization dedicated to advancing science and education in supportive cancer care. Founded in 2015, JASCC promotes safe and effective supportive care through multidisciplinary research, education, publications, and scientific meetings. Specific aims include the education of patients about cancer and disease prognosis, alleviation of the symptoms and complications of cancer, prevention or reduction of treatment toxicities, psychological issues for patients and caregivers, and psychosocial support for cancer survivors.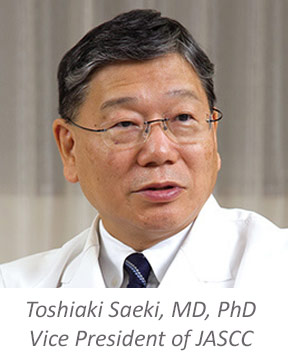 JASCC is directed by President Kazuo Tamura, MD, PhD, and Vice President Toshiaki Saeki, MD, PhD, assisted by its Board of Directors: Keisuke Aiba, MD, PhD, Yoshikazu Kagami, MD, PhD, Takako Nakajima, MD, PhD, Akihiko Osaki, MD, PhD, Atsushi Sato, MD, PhD, Mitsue Saito, MD, PhD, MBA, Takao Takahashi, MD, PhD, Yosuke Uchitomi, MD, PhD, and Tadashi Uwagawa, MD, PhD.
Membership in JASCC is open to medical, surgical, and radiation oncologists, nurses, dentists, dental hygienists, pharmacists, social workers, dietitians, clinical psychologists, biostatisticians, infectious disease specialists, educators, representatives from industry and nonprofit organizations, and others interested in supportive care.
For more information, see the JASCC website or email [email protected]

Share this post: