2020    MASCC is sad to announce that Toni Clark, MASCC Web and Society News Editor, will be retiring.  
We thank her for her many contributions.  
Her MASCC family sends wishes for much good fortune, safe travels and the best of luck.
A Personal Note on My Retirement
I will be retiring from MASCC and concluding my medical writing career at the end of January but will be on hand for a few weeks to help with the transition to our new Communications Manager. For those who don't know me well, I've had a long career as a medical writer and editor before joining the MASCC team in September 2014 — first in academic research centers and later in private industry at companies that produced diagnostic and management decision-making software. While both settings afforded numerous challenges, opportunities, and great personal satisfaction, MASCC has been the best fit for me — the most congenial atmosphere and the most rewarding work. I'm really happy that the conclusion of my professional work-life has been so gratifying.
I expect to be busier than ever as I pursue other life-long interests, mainly in the arts. I've taught college writing courses in fiction and poetry, routinely publish my own work in numerous print and online journals, as well as books, and have run an online poetry workshop for over ten years. Other interests include painting and mixed media art, music (I play French café music on a sparkly purple accordion!), travel, food, and wine. My husband Tom and I, both Francophiles, plan to spend more time in France as well as traveling to other locales.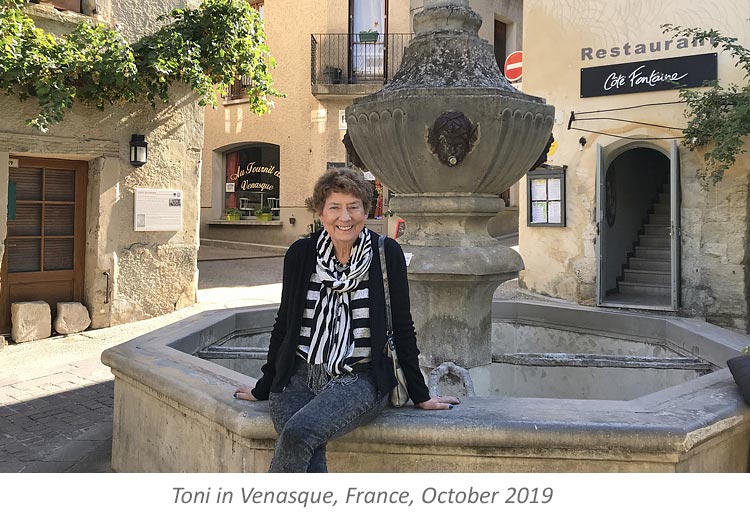 To everyone at MASCC, a sincere thank you for the opportunity to be part of an organization I so admire and respect. I am continually impressed by the mission and growing recognition and authority of MASCC and by the commitment of its staff, leaders, and members. It's been a privilege and a pleasure in more ways than I can say! In the future, feel free to contact me at [email protected].
~ Toni Clark, Editor
Share this post: