Follow-up on 2020 MASCC/ISOO Annual Meeting Postponed to June 24-26, 2021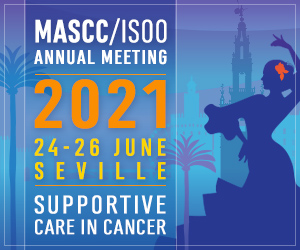 2020    As mentioned in the April newsletter, COVID-19 presented challenges to deliver the MASCC/ISOO Annual Meeting safely, with the only responsible course of action to postpone to June 24-26, 2021 in the same location - Seville, Spain. We have asked members who planned to attend to please change or cancel any travel or hotel arrangements you have made independently. If you have not done so, please remember to do so as soon as possible as most airlines are currently waiving change fees and providing a full credit for tickets that normally do not allow changes.
We intend to keep the program and all accepted oral presentations. Accepted abstracts will be carried over and honored for the June 2021 meeting.  The three meeting themes of critical importance in supportive cancer care that were originally planned for the 2020 meeting will also be carried over to the 2021 meeting.  These themes include: models of supportive care, cardio-oncology, and bioethics. There will also be sessions featuring digital health, palliative care, and cancer survivorship, as well as sessions reflecting the interests of MASCC/ISOO Study Groups.
Postponing the conference was a difficult decision. MASCC recognizes that the research and industry innovations presented at this conference ensure that attendees remain on the leading edge of supportive cancer care.  Be assured we will be fully prepared to welcome you in 2021!
Share this post: