Supportive Cancer Care and COVID-19: A Career Transition During a Worldwide Crisis
2020    The health care profession has experienced major impacts from COVID-19.   As the pandemic continues, MASCC will share our members' professional experiences with our community.  If you are interested and able to share your professional experiences, advice and advancements during this time of international crisis, we will find a convenient time in your schedule for a brief 30-minute interview. Please contact Angela Perez today at [email protected].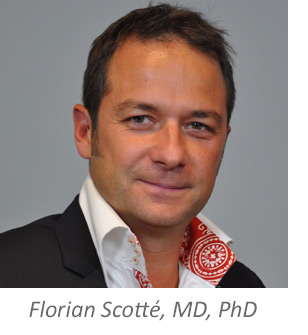 This month, we discuss with MASCC Board Member Florian Scotté, MD, PhD, what it was like to make a major career transition during the time of COVID-19.
_____________________________________________________________________________________
In December of 2019, Dr. Florian Scotté was offered the opportunity to head up and develop a new interdisciplinary cancer care department at the Paris-based Gustave Roussy Cancer Care Center, one of the most renowned cancer care centers in the world.  At the time, Scotté was head of medical oncology at Foch Hospital in Suresnes, just a few short miles from the Paris city center.  Although Foch is one of Europe's largest and most celebrated teaching hospitals, Scotté could not pass up the chance to lead a major project advancing patient-centered cancer care.  He accepted the role and began making plans to transition to Gustave Roussy. 
 The planned start date for his new job?  March 9, 2020.  Little did he know that would be just a few days before French President Emmanuel Macron announced on public television that France was going on lockdown until further notice.  I recently chatted with Scotté about what it is like for a health care professional to make a major career move during a world-wide pandemic. 
 Editor:  What have been some of the stresses and challenges of beginning a new position during the COVID-19 pandemic?
 Scotté: Any time you begin a new position, it important to meet with your team members and staff, to get to know the people you will be working with and relying on day to day.   Almost from the time I started, our hospital was in crisis mode, so the usual interaction and getting-to-know-you interaction was cut short.  From the time of my arrival, we had to re-organize the Intensive Care Unit (ICU) and support various groups on the front line of the fight.  We all quickly came together as a team and I will say this - the urgency of the situation created a strong solidarity among all of us. 
 Editor: In what ways has your new position been affected by the pandemic? 
 Scotté: As I mentioned earlier, almost from the day I arrived, we were in crisis mode, organizing and staging for the pandemic.  One of my first tasks was to collaborate with the Medical Oncology Department to organize COVID-19 wards.  We went from 24 to 34 and then to 44 beds.  I also quickly became involved in our ethics committee and involved in treatment decisions for cancer patients, all in relation to COVID-19.  With the help of supportive colleagues, I have been included in making important decisions and made a part of our "crisis room" planning.  It is important that any health care professional who is new to a team feels welcomed and integrated into with the new colleagues.  In such an epic crisis like COVID-19, it would be easy to feel isolated or on the outside of an already established team.  In my case, my colleagues made sure I felt immediately integrated and an important part of the team.   I have an amazing group of colleagues at Gustave Roussy. 
 Editor: Any reflections on how this pandemic has changed supportive cancer care? 
 Scotté: I'm not sure that COVID-19 will necessarily change supportive cancer care.  But I do believe that during times of upheaval and crisis, there is a risk of patients receiving a bad prognosis.  There is also a risk of those cancer patients being turned away from the ICU because the priority is for COVID-19 patients.  In times like these, we must improve our discussions with our patients and all their caregivers.  And we must be vigilant in sharing decision making with patients and all cancer care groups involved.  On another topic, I will note, that we have had to increase prophylaxis procedures, most notably in anemia and thrombosis. Our teams have also engaged in ethics discussions related to patient care during the time of COVID-19. 
 Editor:  Has your experience during Covid-19 changed the way you view your profession?
 Scotté:  I wouldn't say that it has changed it.  It has enhanced my understanding of what person-centered care is and the need for collaboration and communication among everyone involved in cancer patients' supportive care.  Initially when I began my studies in medicine, I wanted to become a psychiatrist.  I rapidly decided to become a medical oncologist because I saw the need to support patients in terms of human behaviors, therapies, hospital care, and home care.  During COVID-19, the complexities of that support haven't changed – but obstacles to meeting those needs have arisen.  Collaboration and communication across care teams and with the patient is more important than ever.  And I am sure that I don't need to express to my fellow MASCC members how important it is for us to continue our promotion of supportive cancer care worldwide. 
Editor:  How do you recharge and rest during such a difficult and busy time?  Health care professionals run the risk of burning out during such a prolonged time of crisis.
Scotté: When I'm not working, I make a point to spend quality time with my wife, Claire, and my two daughters, Laure, 21, and Anna, 18.  There isn't much time for prolonged rest and relaxation.  I do look to my two cats, Sushi and Mya, to learn how to slow down but I don't have time to sleep 24-hours a day like they do.  I do look forward to one day getting back into regular exercise and to my hobbies like playing bass guitar and traveling with my wife.   And I do still enjoy French Burgundy now and again, the greatest wine in the world as far as I am concerned.  I will say this, however - as much as I miss some of my down time activities, I am committed to serving on the front lines and working closely with colleagues and patients to ensure the best possible treatment and outcomes for our cancer patients during this time of crisis.
Scotté has been an active and engaged member of MASCC since 2003.  He currently serves on the Board of Directors. He is also Head of the Interdisciplinary Cancer Course Department (DIOPP) at Gustave Roussy Cancer Campus, Villejuif, which combines supportive care departments, the ambulatory care department and critical care department (ICU and emergencies in oncology). He was previously Head of the SCUPP (Supportive Care in Cancer Unit Pompidou Paris) at the European Hospital Georges Pompidou (Paris, France), and Head of Medical Oncology and Supportive Care Department at Foch Hospital (Suresnes, France), where he developed a new supportive care department in relationship to medical oncology improvement.   He is also a member of ESMO, ASCO, CKIN and is Vice-President of AFSOS (French Speaking Association for Supportive Care in Cancer). He teaches at several universities and is the coordinator and co-investigator of numerous studies, especially in supportive care. His interest is devoted to nausea and vomiting management. He also serves on the editorial board of La Lettre du Cancérologue and coordinates online news programs during international meetings on the lecancer.fr website.
Share this post: