MASCC Past-President Rajesh Lalla honored by the American Dental Association
2020    The American Dental Association (ADA) and the American Association for Dental Research (AADR) announced the winners of the annual Evidence-Based Dentistry (EBD) Faculty and Practice Awards. The awards are presented to educators and clinicians who have made significant contributions to implement and advance EBD. The winners were recognized at a virtual booth hosted by the ADA Science and Research Institute at the 2020 ADA FDC Virtual Connect Conference, held Oct 10-13, during a joint meeting of the ADA and Florida Dental Association.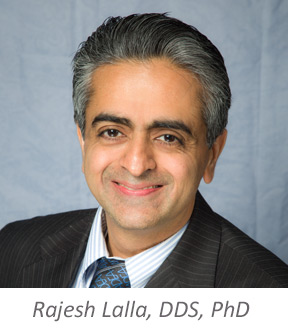 Among the award winners is MASCC Past-President Rajesh Lalla, DDS, PhD.  Lalla received the 2020 EBD Accomplished Faculty Award.  Lalla is a professor and associate dean for research at the University of Connecticut School of Dental Medicine. He developed as well as teaches the school's course on evidence-based decision-making, which emphasizes experiential learning and student participation with minimal lecturing.  Lalla has published over 100 scientific articles in peer-reviewed journals, including 23 systematic reviews and evidence-based guidelines such as the 2020 "MASCC/ISOO clinical practice guideline for the management of mucositis secondary to cancer therapy" published in the journal Cancer. In June of 2020, he ended a distinguished term serving as MASCC President.
Share this post: