Oral Care Study Group
Leadership
Chair: Cherry L. Estilo, DDS - USA
Vice-Chair: Suzanne Carlisle, DDS - Canada
Vice-Chair: Noam Yarom, DMD - Israel
Research Lead: Kıvanç Bektaş Kayhan, PhD, DDS - Turkey
Systematic Review Lead: Derek K. Smith, DDS, PhD - USA 
For more information or to contact Study Group Leaders, see our contact page.
---
Goals
The Oral Care Study Group's major goals are to enhance knowledge of the wide range of oral complications associated with cancer therapies and to support the translation into improved clinical management for patients. The group's objectives are to understand the clinical impact of the wide variety of oral complications. These include xerostomia, dysgeusia, dysphagia, oral pain, fungal infection, viral infection, osteoradionecrosis, osteonecrosis from bisphosphonates, dental disease and trismus.
The Study Group aims to develop and coordinate new evidence-based management guidelines. In addition, the Oral Care Study Group serves as a resource for collaborative research efforts among members of this group as well as other members of MASCC and ISOO. Another focus of the Oral Care Study Group is education for members of MASCC and ISOO. The group will undertake multiple, systematic reviews of the incidence and prevalence or oral complications of cancer therapy, as well as their management, effects on quality of life, and economic impact. Efforts are underway to establish a multicenter study of members of the Oral Care Study group to prospectively collect data on various outcomes related to oral complications of cancer therapy.
---
2020 Pre-Conference Workshop
Oral Supportive Care for Older Adults with Cancer: How Do They Eat? What Do They Eat?
Chairs: Kıvanç Bektaş Kayhan, PhD, DDS, and Christopher Steer, MBChB, MD, FRCOG
This workshop will explore practical aspects and key issues in oral care and nutrition assessment of older adults with cancer. Three distinct perspectives will be represented: those of the oncologist, the dietitian, and the dentist. Oncology-related topics will include risks for orodental and nutritional problems in older adults with cancer and geriatric assessment as a supportive care strategy. Dietary topics will include nutritional issues and the role of the dietitian on the multidisciplinary team, nutritional assessment, and interventions, such as dietary modifications. Dental topics will include the impacts of poor oral health, how dentists assess oral health, and interventions for preventing and managing oral healthcare problems in this patient group. A practical interactive workshop is planned to ensure that participants learn the basics of oral health and dietary assessment. Oral health assessments are not currently performed routinely as part of a comprehensive geriatric assessment. The workshop will conclude with a group discussion of which oral health assessments can be recommended and a strategy for integrating this into routine care.
This workshop represents a collaboration between three Study Groups: Geriatrics, Nutrition and Cachexia, and Oral Care. It will take place on Thursday, June 25, from 8:00 to 11:00 am. Workshop attendance requires registration in addition to registration for the Annual Meeting. Register at the official 2020 Annual Meeting website.
Past Workshops
---
Study Group News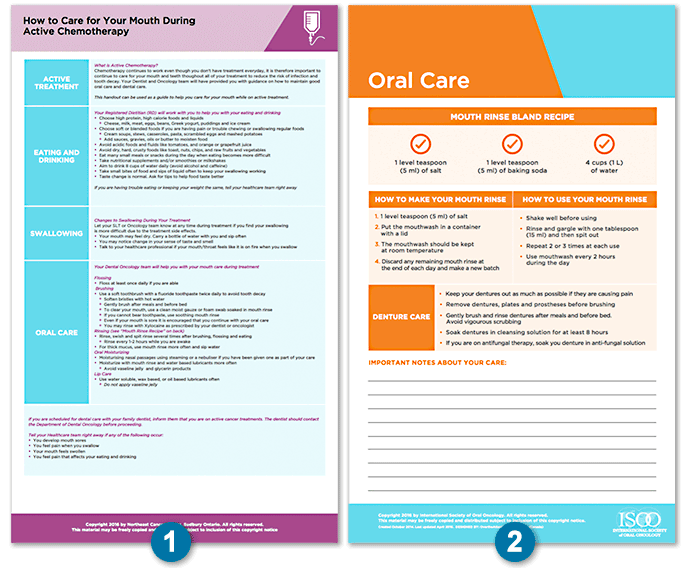 New Oral Care Education Materials  
Members of MASCC, the International Society of Oral Oncology (ISOO), and the Oral Care Study Group have created four multilingual Fact Sheets and an Oral and Nutritional Care Education Video Storyboard that provide instructions for patients undergoing chemotherapy or head-and-neck radiation therapy. These materials provide instructions on caring for the mouth during active chemotherapy, and on self-care before, during, and after head-and-neck radiation. The Fact Sheets, based on systematic reviews, guidelines, and up-to-date, evidenced-based recommendations, are available in 18 languages.
---
MASCC Study Group Chairs Leading Study on Oral Complications of Radiotherapy 

Dr. Michael Brennan and Dr. Raj Lalla are the Co-Principal Investigators of an NIH-funded study, Treatment Outcomes from Head and Neck Cancer Therapies. An award of $8 million was made, in 2012, to Carolinas HealthCare System (CHS) to conduct a multi-center study.
The research team is studying dental and oral medicine outcomes among patients who have received high-dose radiation to the head and neck region. These outcomes include a permanent decrease in saliva production (hyposalivation) and impaired healing of bone around the teeth (osteoradionecrosis), adverse effects with a major impact on quality of life and risk for further dental complications.
Dr. Brennan is the current President of the International Society of Oral Oncology and recently served as the Chair of the Oral Care Study Group of MASCC. Dr Lalla is the current Chair of the MASCC Mucositis Study Group and also is a MASCC Board Member.
---
Clinical Research Initiative
Diagnostic and Management Practices for Oral Chronic Graft-Versus-Host Disease (cGVHD)
The Oral Care Study Group conducted a study on the diagnosis and treatment of oral chronic graft-versus-host disease (cGVHD). The study was designed to assess common practices, as well as to determine use of the National Institute of Health scale for the diagnosis and grading of oral cGVHD. The project was headed by Sharon Elad, DMD, MSc, Eastman Institute for Oral Health, University of Rochester Medical Center.
A survey was distributed to Oral Care Study Group and MASCC/ISOO members in order to identify medical centers with experience in managing patients with oral cGVHD. The structured survey contained questions about the respondents' demographics, whether or not they treat oral cGVHD, evaluation tools, diagnostic aids, topical treatments, and preventive measures. >> Read More
---
Recent Member Publications
Oral Care Study Group members have published widely in Supportive Care in Cancer and many other journals. See a selection of recent articles
---
Resources
---
Related Links
Mouth Cancer Foundation
National Cancer Institute information on Oral Mucositis
---
For more information or to contact Study Group Leaders, see our contact page.